This is a Surround speaker and a Centre speaker. It's matched with the Larsen 4, the Larsen 6 and the Larsen 8, equipped with the same drivers as its respective counterpart to produce a more homogeneous sound in surround sound applications. The drivers are placed over each other for greater dispersion, creating an even wider listening area.

As a centre speaker it is best placed under a flat screen TV or a projector screen with the speaker units facing upwards. As surround speaker it can be placed on a wall with its ingenious hanging mechanism facing in almost any direction, depending on the layout of your listening room.

Hear it, feel it - love it!

Design: John Larsen. Sound Design: Anders Eriksson.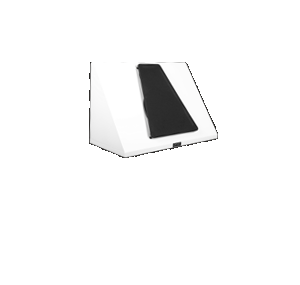 | | |
| --- | --- |
| | Larsen 4 / Larsen 6 |
| Effect | 100W |
| Sensitivity | 87db / 88db |
| Impedance | 8ohm |
| Bass driver | 174mm / 177mm |
| Width | 430mm |
| Height | 273mm |
| Depth | 195mm |
| Weight | 7kg/15-16lbs |
| Finish | Lacquer |